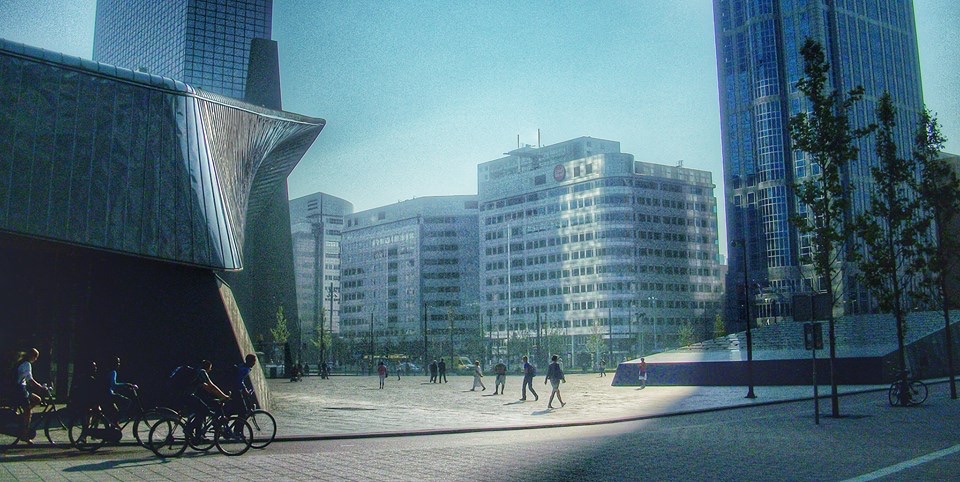 Amazed by Rotterdam, expressed by Digital Photography
Het begon allemaal met mijn verhuizing naar Rotterdam in 2011. De stad waar ik ben opgegroeid en waar ik ruim veertig jaar geleden was vertrokken; de stad van mijn vader. Ik raakte gefascineerd door wat ik zag. In de ruim veertig jaar dat ik weg was, was er veel veranderd. En ook weer niet. Ik voelde me nog steeds verbonden en ontdekte dat mijn roots echt hier in deze stad liggen.
De stad herontdekkend fotografeerde ik met mijn smartphone alles wat indruk op me maakte. Het werd een serie en de serie werd een ode aan de stad. Er ontstond een parallel met de liefde en bewondering die ik voelde voor mijn vader, die was achtergebleven in Rotterdam toen we daaruit vetrokken.
En er ontstond een eigen beeldtaal die zich gaandeweg verder ontwikkelt. Ik ben de werken photographics gaan noemen omdat het allen bewerkte foto's zijn. Eerst met filters op mijn smartphone en later beeldbewerkingen van foto's gemaakt met een digitale camera.
Kunst is voor mij een manier om visueel te krijgen waar ik ben.
Ik denk dat alles wat we creëren een spiegel is van onze innerlijke wereld, beelden van binnen naar buiten. Fotograferen maakt mij duidelijk hoe ik naar de buitenwereld kijk. Je bent uitgenodigd om mee te kijken…
It all started with my moving to Rotterdam in 2011. The City I grew up in and that I left more than 40 years ago; the City of my Father. What I saw fascinated me completely. In thee 40 years a lot was changed. And was not. I still felt very connected and discovered that here my roots realy were.
Recovering the City I shot everything that impressed me with my smartPhone. It became a series and the series became an ode to the City. A parallel arose with the love and admiration I felt for my Father, who stayed in Rotterdam when we, my Mother, brother and sister, left here.
And  a new language evolved gradually. The works are called photographics because they are all edited photos. First, with filters on my smartphone and later on image editing of photos made with a digital camera.
Art for me is a way to get visual where I am.
I think everything we create is a mirror of our inner world, images from the inside out.
Taking Pictures makes me clear how I look at the outside world. You are invited to watch with me…
© Jan Abrahim Vos